Discover our Parks, Invercargill
Date
10 March 2019 - 16 March 2019
Venue
Cornwall Park, Auckland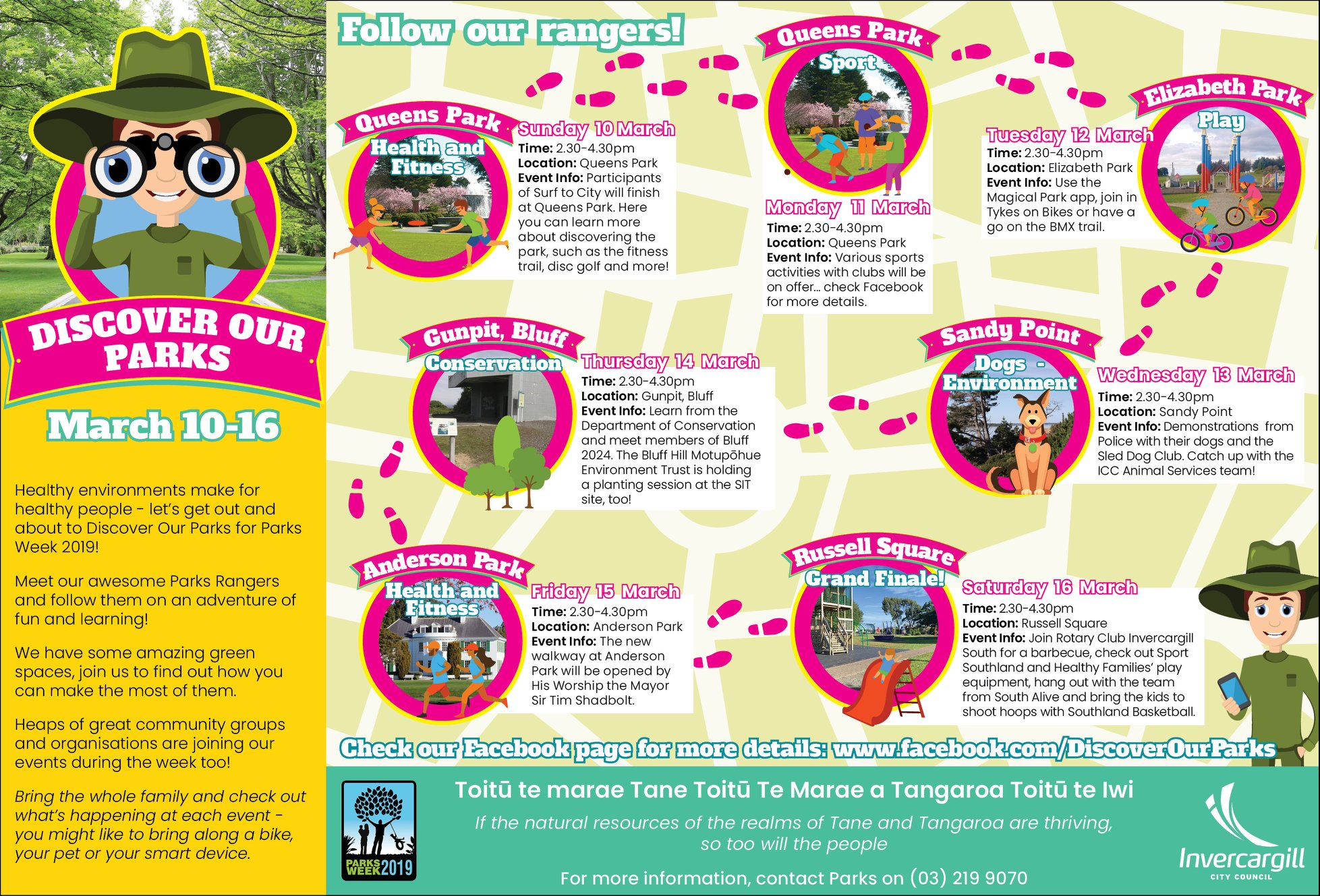 Various throughout the week - large programme of events
When: Sunday 10 March, 2.30pm-4.30pm
Where: Queens Park, Herbert Street end
What: Participants of Surf to City will finish at Queens Park. Here you can learn more about discovering the park, such as the fitness trail, disc golf, and more!
When: Monday 11 March, 2.30pm-4.30pm
Where: Queens Park, Herbert Street end
What: Various sports activities will be on offer, check out our Facebook page for more details.
When: Tuesday 12 March, 2.30pm-4.30pm
Where: Elizabeth Park
What: Play the Magical Park app for the first time in Invercargill! Join in Tykes on Bikes or have a go on the BMX Trail
When: Wednesday 13 March, 2.30pm-4.30pm
Where: Sandy Point - near the Visitor's Centre
What: Demonstrations from Police with their dogs and the Sled Dog Club. Catch up with the ICC Animal Services team!
When: Thursday 14 March, 2.30pm-4.30pm
Where: Gunpit, Bluff
What: Learn from the Department of Conservation and meet members of Bluff 2024. The Bluf Hill Motupohue Environment Trust is holding a planting session at the SIT site, too!
When: Friday 15 March, 2.30pm-4.30pm
Where: Anderson Park
What: The new walkway at Anderson Park will be officially opened by His Worship the Mayor Sir Tim Shadbolt.
When: Saturday 16 March, 2.30pm-4.30pm
Where: Russell Square
What: The Grand Finale! Join Rotary Club Invercargill South for a barbecue, check out Sport Southland and Healthy Families' play equipment, hang out with the team from South Alive, and bring the kids along to shoot hoops with Southland Basketball.